8 THINGS TO DO THIS SPRING
Posted by JOWEL MATEO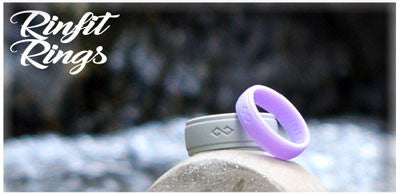 Spring is in the air, and we here at Rinfit see the season as a fantastic opportunity to get out of the house, brush off those winter cobwebs, and get back into an active lifestyle. Jumping back into the swing of things after months of hibernation can be tough, but it's worth it. Get rolling now to get your body into shape for summer, find the best camping spots, or just feel better. Unless you're a fan of winter sports like skiing or snowboarding, you've probably spent the last few months indoors – it's time to get out and enjoy the great outdoors! Here are eight activities you can do to help get you out of the house, enjoying nature, and ready to tackle summer head-on.
Go for a jog.
Getting out this spring doesn't have to be an enormous affair all at once. Why not stick close to home and take a few laps around the neighborhood? Jogging will get your heart rate up and pumping, it will get you sucking in fresh air, and best of all, you'll be giving your legs a stretch. Speaking of stretching, make sure you do plenty of it now, as well as any time you jog. Stretching gives the muscles a chance to warm up and get ready to work – the last thing you want to do at the end of beginning of Spring is pull a muscle. You'll also want to take off your wedding band so you don't lose it – the perfect time to pick up a Rinfit silicone ring.
Go camping.
Now that the snow is melting, why not pitch a tent? Sure, maybe it's still a bit cold, but that will just make your time spent around a roaring campfire all the more intimate and enjoyable. Plus, because a lot of critters and insects are still tucked away for the winter, you don't have to worry about bringing bug spray or hiding your food from bears (though you should probably hide the food anyway, just in case). As an additional benefit, getting out early means you have time to scope out the best campsites so you'll know where to come back in the summer months.
Go for a swim in the ocean.
Yup – go for a swim in the ocean. You read that right. Throughout history, water has often symbolized transformation. In film, TV, and books you'll often notice that the main character (or sometimes a side character) will undergo an immense character change, and this change will often be symbolized with a "rebirth" involving water. You see this in religion, too – Christianity uses Baptisms as a means of symbolizing birth and, in some cases, rebirth.
Why not start off the spring in the right mindset? This time of year, the ocean is cold. It will take strength of will to bring yourself to put a toe in the water, much less dive in. That's how you want this year to be, though: you want to face your fears, strengthen your willpower, meet challenges head-on and overcome them. Start with a dip in the ocean. At the very least, it'll be refreshing.
Garden.
Have you ever thought about growing your own food?
Maybe switching to a self-sustaining lifestyle overnight isn't the best idea, but you can still grow your own foods to eat during the summer. Imagine eating a salad made entirely from vegetables grown in your own garden. Imagine starting off your days by walking outside and plucking a nice, juicy peach from your own peach tree. Become the life of the party when you introduce a bowl of fruit salad to the table, and tell everyone that it's made from your own strawberries and blueberries.
Now is the time to get rolling on planting a garden. Never gardened before? Head down to your local bookstore and pick up a gardening book. Which brings us to our next point…
Sit outside and read a book.
Sitting inside by a warm fire is nice, but it's getting warm out – time to take your literary adventures outside. Pick up a paperback in your favorite genre and dedicate half an hour or so to sitting outside, enjoying the fresh air, and reading. If you haven't read books in a while? Now is the time to experiment with new authors and genres. Or, if there's ever a skill you wanted to learn, take some time to read a book on the subject and start learning it.
Already an avid reader? Maybe now it's time for you to start writing a book. Tote your laptop outside, or just a notebook and a pen, and jot down some ideas. Once the ideas start flowing, you'll be amazed at how quickly you're able to write.
Play softball.
Or any sport, for that matter. Football, soccer, baseball, softball – any sport that gets you out of your house and running around like a kid again. Plus, team sports are a social activity, meaning you'll be making new friends, new business contacts, and maybe even new intimate relationships in the process. Just bear in mind that wearing your traditional metal wedding ring puts you at risk for ring avulsion, which is an ugly medical condition where your ring gets caught on something and the damage to your finger is, well, gruesome. Stay out of the emergency room this spring by making sure to wear your Rinfit silicone ring.
Have a picnic.
Has it been a while since you've had a picnic? Grab the blanket, fill up the picnic basket, find a scenic spot and escape the hustle and bustle of the day-to-day for an hour or so. If the weather is nice enough, head on down to the beach, or just explore your local park. Pretty much anywhere is a great spot for a picnic – and picnics are fantastic opportunities for you to propose to your Special Someone, by the way.
Sit outside at a café.
This one can go hand-in-hand with the 'read a book' suggestion above, but it can also stand on its own. Sure, you can head down to the local coffee shop and read a book at one of the tables, or you can people watch. Or you can introduce yourself to some of the other customers, or just relax, drink a cup of coffee, and enjoy being out with people. Again, just like playing sports, putting yourself out in public exposes you to new people – and exposing you to new people can bring your personal, professional, and romantic life to new heights.
What are you going to do to get out of the house this spring? Let us know in the comments below! Collection 2019 Sale 70% Off Title for image