Top Six Proposal Ideas No One Could Say No To
Posted by RINFIT TEAM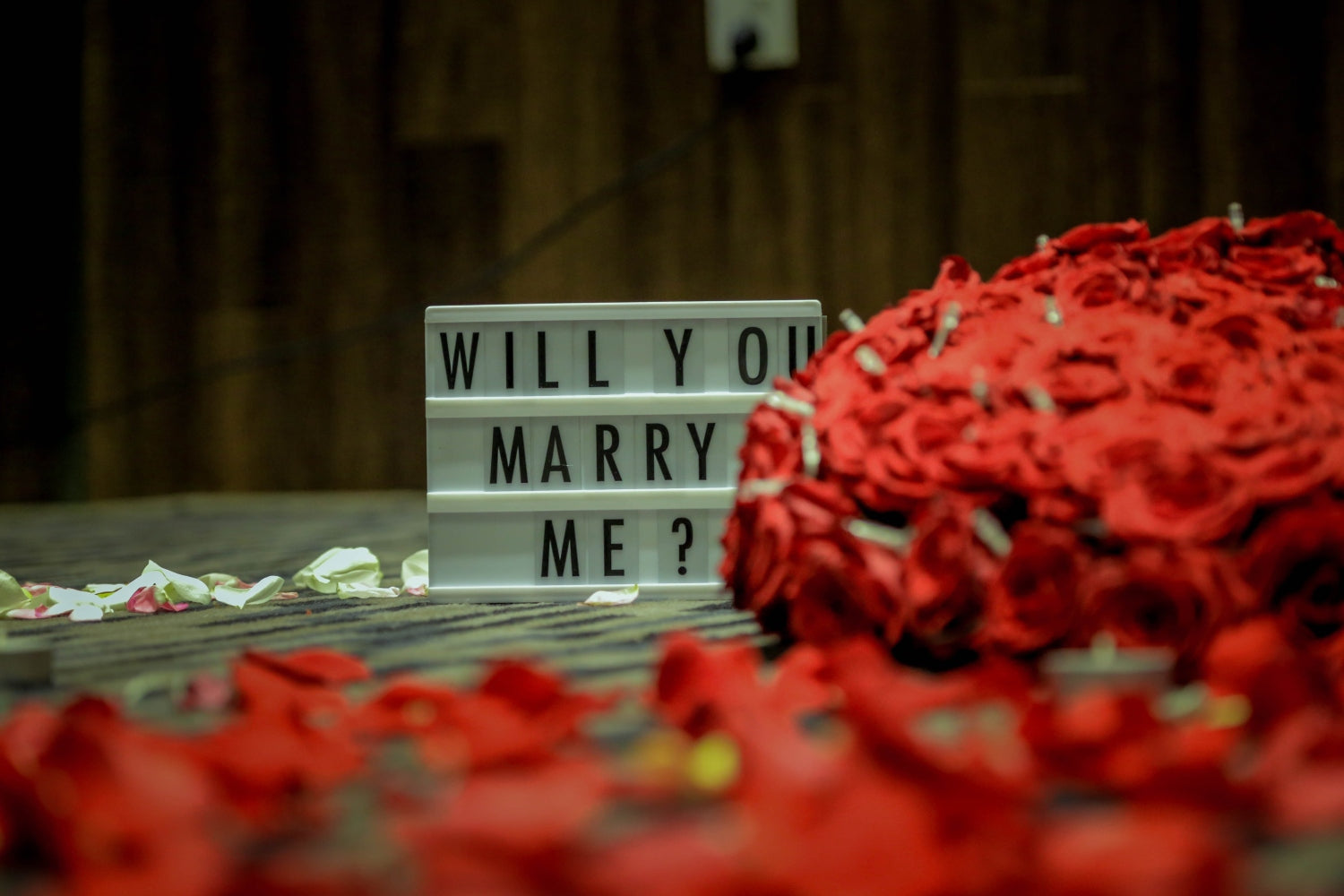 Planning a proposal is a lovely thing for most people, but it can also be challenging and sometimes stressful. Surfing the internet, you will find thousands of ideas for romantic engagement, but which one to choose? Should you go for something simple or something extravagant?
The very first step might be consulting a professional. But before you do that, look at this list, and maybe you can find some inspiring ideas you can modify and make it one of the most unique and memorable moments of your life.
The concept of the perfect proposal depends on the personality of your partner. If the person is introverted, shy, and doesn't like the spotlight, you will choose a simple, intimate proposal.  If your partner likes crowds, music, having fun, and adventures, you know what the right choice will be.
The second thing to think about is planning a proposal as an entire event or just as a simple and private moment. If you know that your partner is ready for marriage and wants the same things in life as you, the proposal is a done deal. Also, timing is everything. It is essential to discuss your partner's future and life goals way before the actual engagement, so you wouldn't have to worry too much about the answer.
When you decide to take this vital step, you can find inspiration in these ideas.
Recreate Your First Date
This idea may seem classic, but it is still very romantic. If you pop up the question at the same restaurant or place where you first met, your partner will be blown away for sure if you take that walk or visit that specific place.
If you have photos of your first date, you can also recreate the outfit or ask to play your favorite song at the bar.
Also, you can choose the spot where you first said, "I love you," or where you had your first kiss.
Go On a Boat Ride
Is there anything more romantic than proposing while doing the activity you both love? You can pack some food, a bottle of champagne, and that magical ring, and get on a boat. You will be all alone, dedicated to each other, and that for sure is the ideal moment to pop up the question.
As ordinary as it seems to be, if meaningful for you, any location can be ideal for this moment.
The other alternative could be choosing the spot you have never been to before, but you know that your future fiancé would love to visit. After that magical moment, that place will become a unique memory for both of you.
Create an Ideal, Romantic Beach Scene
If you are lucky enough to live near the beach, then take advantage of that! It can be a simple walk at the sunset when you can pop up the question or organize a picnic with some wine and romantic music.
Propose During Your Favourite Activity
Whether it's a sport, you both enjoy, going to the gym, or cooking at home, that could be an excellent opportunity to propose. You both will feel comfortable, relaxed and the question will come naturally.
If you play sports, go to the gym regularly or do a challenging job, wearing a precious metal ring can be uncomfortable. But luckily, you can find beautiful alternatives like
silicon rings
. Isn't that wonderful? 
You will not have to worry about damaging or losing your precious engagement or wedding ring with these unique rings. They are the most comfortable, safe, unique, and stylish pieces of jewelry. They come in many different colors and shapes, and they are durable.
Invite Your Partner to a Fake Wedding Shoot
If you can manage, tell your partner that you both are selected to be models for a wedding shooting for some wedding planning company, for example. Then get dressed up, hire a photographer, ask your friends to help you choose dresses and suits, and the rest is up to you.
One thing is for sure, you will have some fantastic photos of your special moment and a wedding rehearsal, all at once.
Propose at Family Event
When the whole family or your friends are gathered celebrating, that could be a perfect moment to ask the question (make sure not to propose at someone else's wedding). There's always music, good energy, laughing, drinks at a family event, and it seems like an ideal moment for engagement.
If you have already proposed, or you were the witness, what is your story? We would like to hear it. Maybe you can inspire more couples with it. Collection 2019 Sale 70% Off Title for image